Premium Dual Band 1200Mbps Wifi Booster
Regular price
$109.90
Sale price
$59.90
Unit price
per
Sale
Sold out
Premium Dual Band 1200Mbps Wifi Booster (4x Faster Than 300mbps Booster)

NEVER LOSE INTERNET CONNECTION EVER AGAIN!!

(No More Dead Spots In Your Home)
There are not that many things that are more annoying than a slow internet and WiFi "dead zones" around your house… It takes forever to load a single website, video buffering takes so long that you don't even want to watch it anymore, and constantly "breaking" video calls bring endless frustration instead of happiness.
These situations occur because the signal of most router boxes nowadays is usually too weak to serve the needs of modern home. Not only it's not enough to use with more than one device, it usually doesn't even go through tougher walls, multiple floors, or various other obstacles.
Fortunately, there is a solution that not many people are aware of – Premium Dual Band 1200Mbps Wifi Booster. This compact yet powerful device allow you to increase your WiFi's speed and range by "grabbing" a signal from your router and amplifying it to reach even the furthest corners of your house.
TECHNICAL SPECIFICATIONS

2.5Ghz and 5Ghz Dual Band Wifi Booster

Gain increased WiFi coverage

Blazing-fast data transfer up 1200Mbps

Easy plug and play setup & compact design
 THE SIMPLEST WAY TO COVER ALL OF THE WIFI DEAD SPOTS IN YOUR HOME!
 PERFECT FOR MOBILE CONNECTIONS :
Improve your mobile WiFi speeds by up to 100%+! The internal antennas extend WiFi coverage throughout large homes and even backyards.


 RANGE BOOST TECHNOLOGY :
Boost the range of your existing WiFi and create a stronger signal in hard-to-reach areas. Estimated coverage range up to 300ft for 2.5Ghz and 150ft for 5Ghz.
 

 THE ULTIMATE RANGE EXTENDER :
Boost your existing network range, delivering WiFi speed up to 1200 Mbps. This compact wall-plug Premium Dual Band 1200Mbps Wifi Booster is also small and discreet, easily blending into your home decor.


 WIRELESS CONNECTION YOU CAN COUNT ON:
The Premium Dual Band 1200Mbps Wifi Booster is the best and most efficient way of extending and boosting your WIFI coverage at blazing fast speeds. It works with almost any router or gateway and is incredibly easy to set up!
  WPS Quick Setup
5 Seconds Get Strong WIFI Signal
  Wide Compatibility
Sign Can Be Connected with Any Wireless Devices
  Say Goodbye to WIFI Dead Zones
Help you keep mobile devices, media players and computers connected to WIFI with a reliable connection and expanded coverage in every corner of your home
  The Best and Proper Position To Place Your Premium Dual Band 1200Mbps Wifi Booster Between You and Your Wifi Router
Our Customers :
Andrew G. - New Jersey   
"I absolutely love this wifi extender. Shipping was fast, and the product felt like it was made of quality materials. After the easy set up, I could noticeably see the difference. All my devices were running much faster and smoother on my WiFi!"
James G. - Texas   
"I've tried a big name range extender before and it simply couldn't reach my backyard and was way too expensive. I gave Premium Dual Band 1200Mbps Wifi Boostera shot and now I can browse the web in my backyard NO PROBLEM, thanks!"
Melissa K. - Maine   
"This is the best 5G wifi extender so far. We were having trouble streaming on our downstairs TV with slow speeds. Now it works with this small extender perfectly, so I am very very pleased with this purchase."
📦  * Exclusive Free & Fast Shipping Worldwide*  ✈️
Shipping Policy

FREE SHIPPING (Worldwide) FOR ORDERS ABOVE $60!

Our Estimated Shipping Time

🚀 To USA:

     Standard Shipping (7-15 days) - $5.95 (Free over $60)

🚀 To CANADA:

     Standard Shipping (10-15 days) - $5.95 (Free over $60)

🚀 To AU/ UK/ NZ:

     Standard Shipping (7-12 days) - $5.95 (Free over $60)

🚀 To DE/ES/IT/NL/SE:

     Standard Shipping (7-10 days) - $5.95 (Free over $60)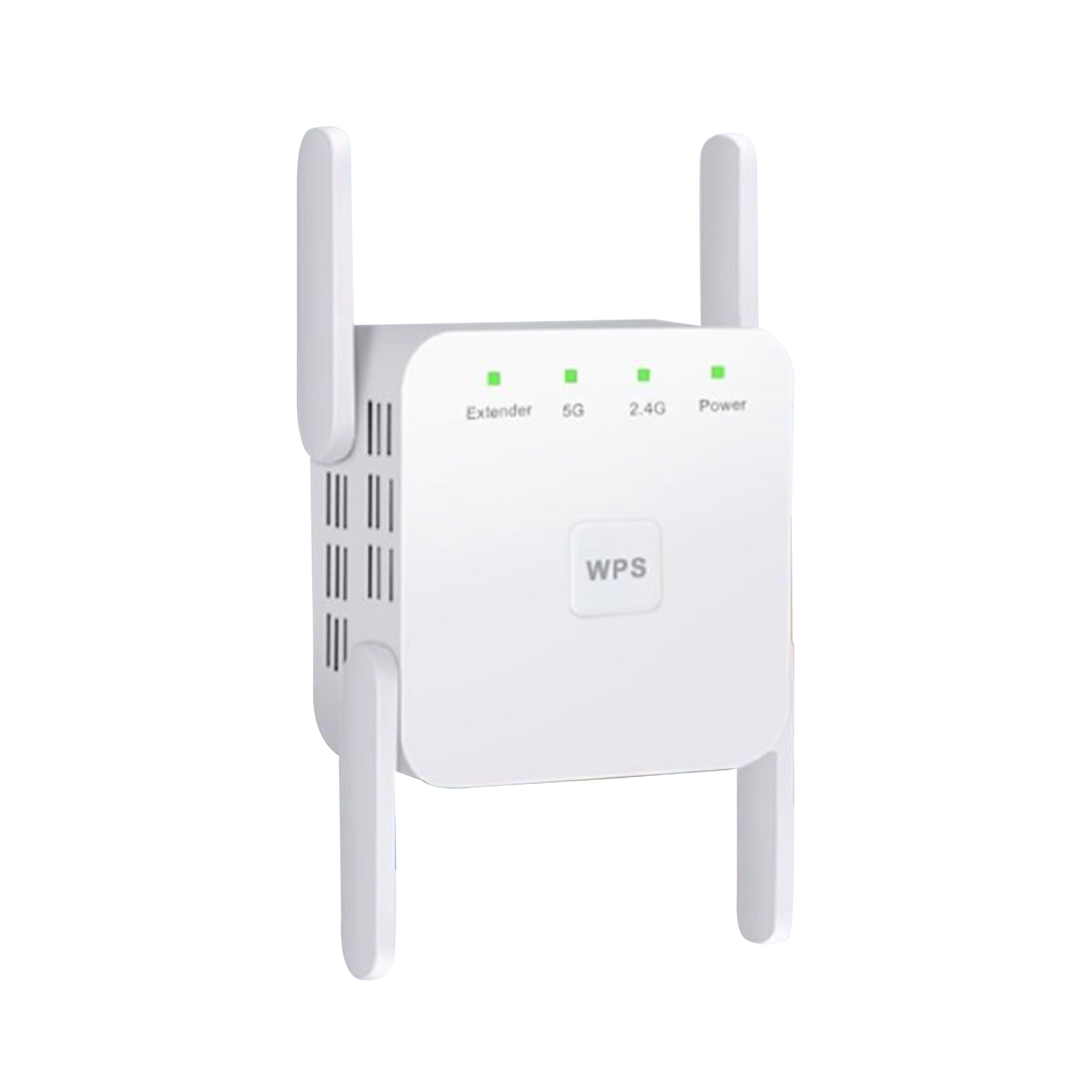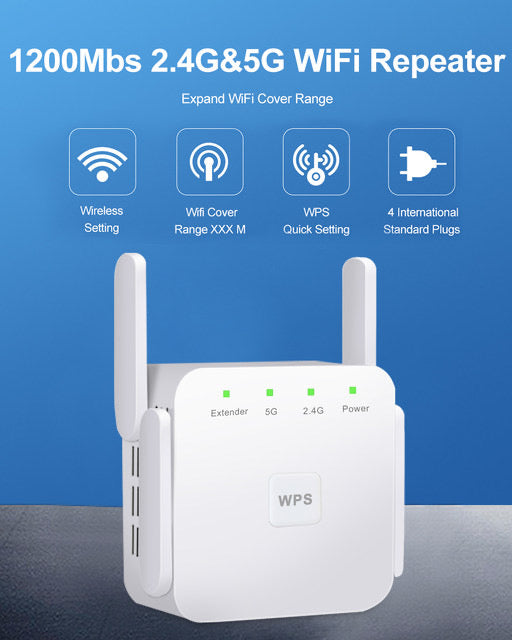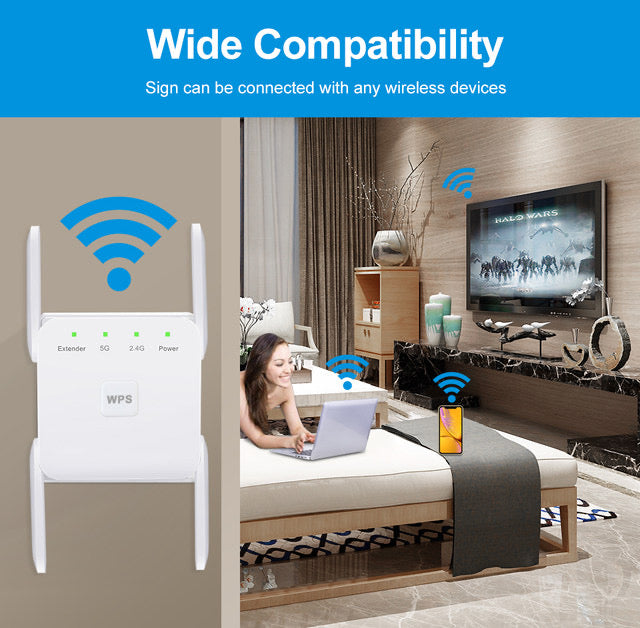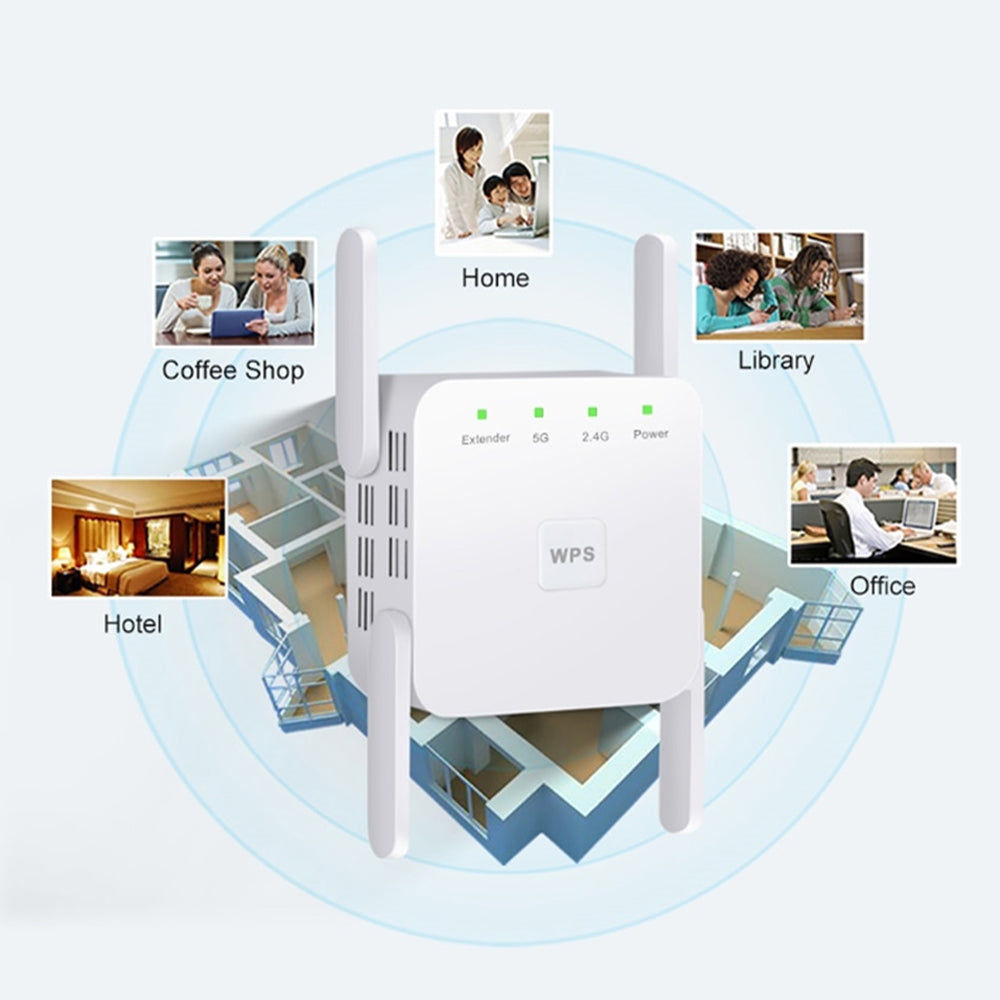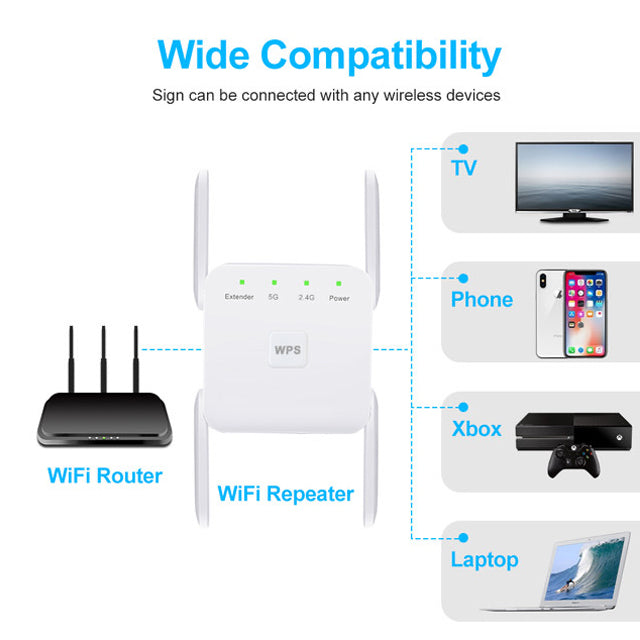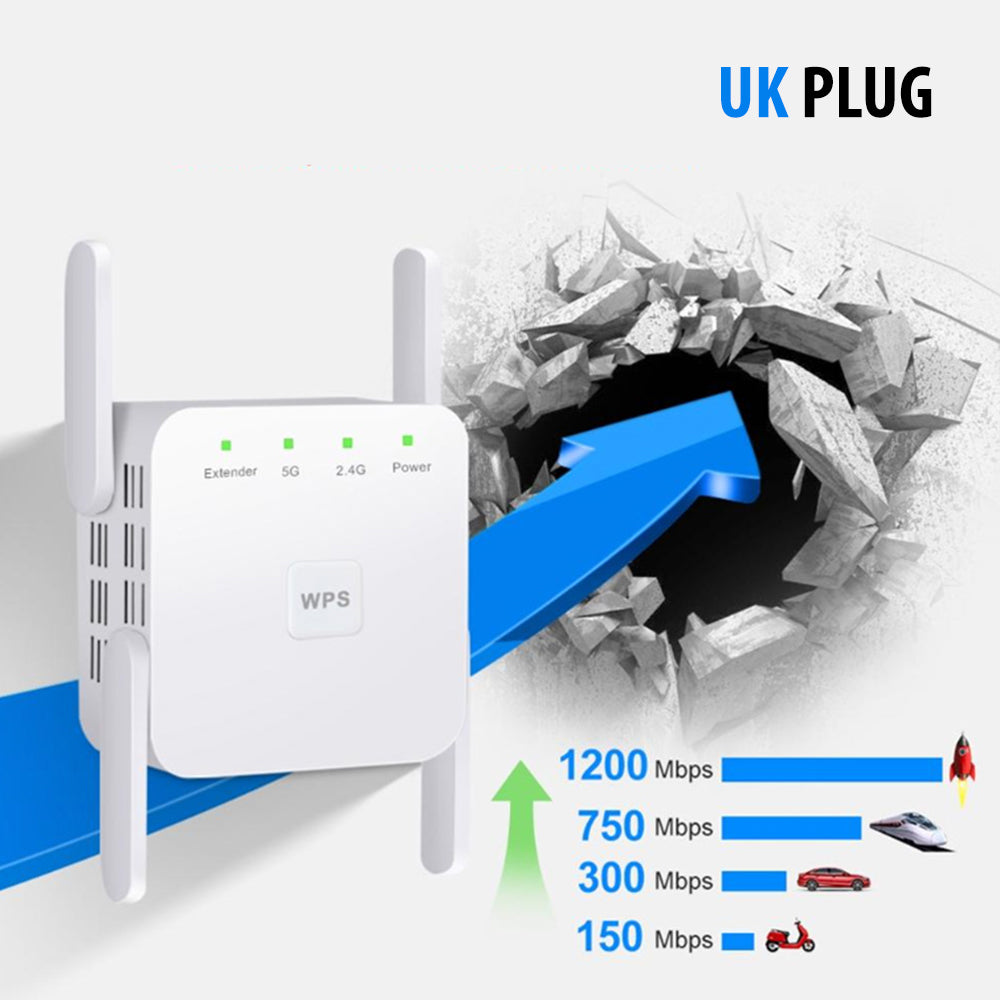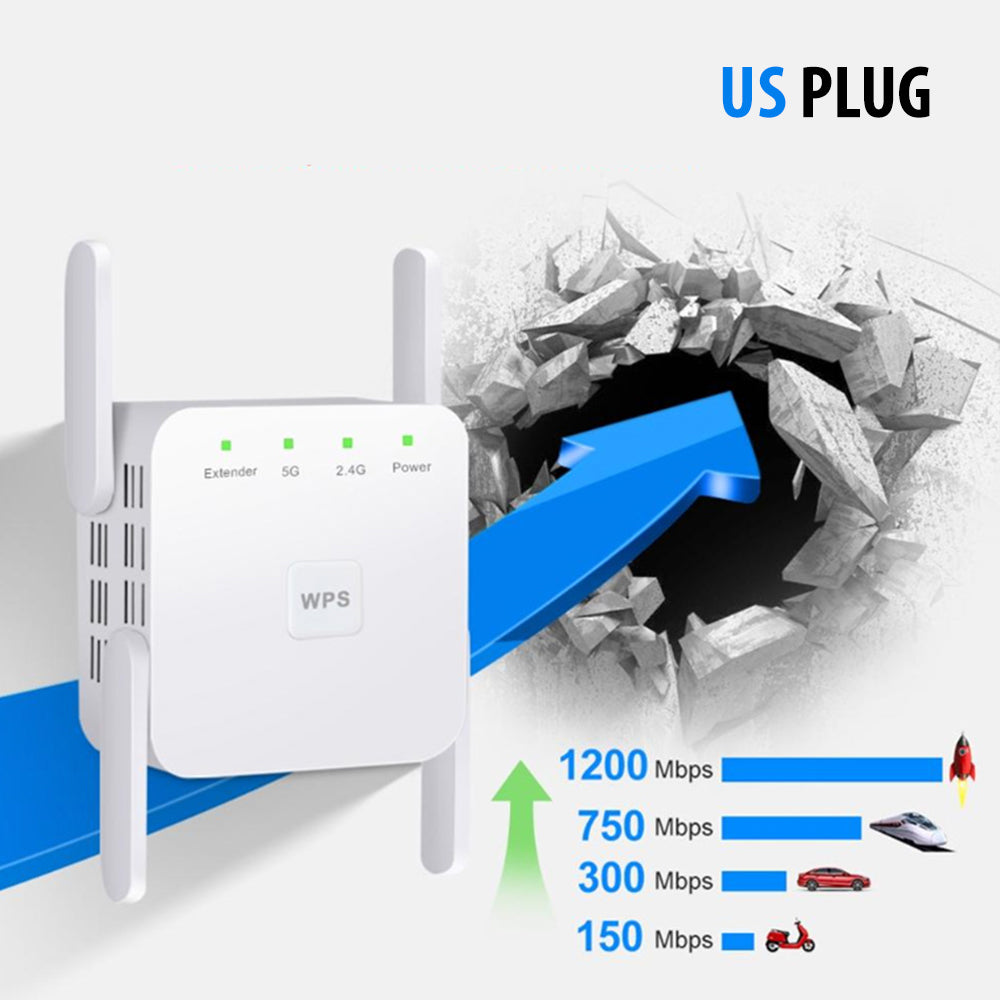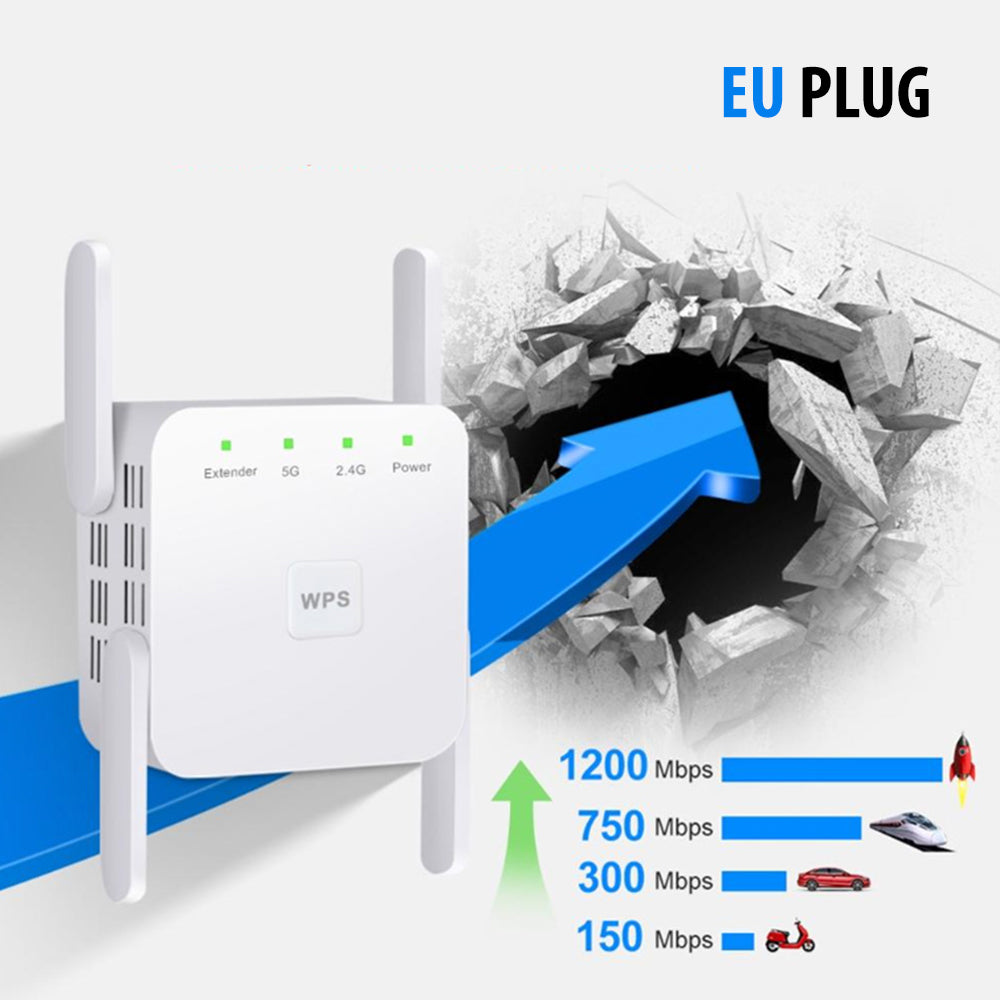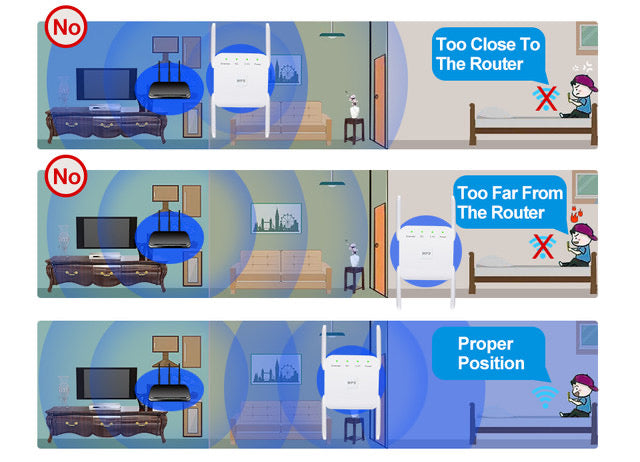 Premium Dual Band 1200Mbps Wifi Booster
Premium Dual Band 1200Mbps Wifi Booster
Premium Dual Band 1200Mbps Wifi Booster