Automatic Clamping Wireless Car Charger
Regular price
$79.95
Sale price
$47.95
Unit price
per
Sale
Sold out
Automatic Clamping Wireless Car Charger 2023
Driving is an excellent time to charge your phone up, especially if you tend to have long commutes. However, plugging and unplugging your phone every single time you get into the car is a pain, especially when so many of our phones have wireless charging that's perfect for this.
Automatic Clamping Wireless Car Charger combines a wireless charger and car phone holder in one unit. Make your journey safer and more convenient! have been slowly creeping into our offices and homes. You should absolutely GRAB this wireless car charger and go wire-free in the car!
【Clamp The Phone Automatically】
The unit produces much less noise due to the built-in sensor. The phone holder locks the phone as soon as the phone is placed on the holder. The user only has to touch the holder without disconnecting the device and the charger if the user wishes to remove the telephone.

【UNIQUE FAST LOADING TECHNOLOGY】
Wireless Car Charger adopts an improved independent coil and charges your phone faster than most other chargers on the market. 10W Wireless Car Charger for Samsung Galaxy S10 S10+ S9 S9+ S8 S8+ Note9 Note8 and more; 7.5W Wireless Car Charger for iPhone 11 Pro Max 11 Pro Xs Xs Max XR 8 8 Plus; 5W car cell phone holder for standard charging. Fast charge requires a QC3.0 car charger.

【Air Vent Mount Bracket】
Compared to the windshield or dashboard mount, the air vent mount is much easier for you to reach the phone in the car and less distraction when driving. No tools required. You can securely attach this phone holder to almost any of your vehicle's vents, with no hassle and no hassle to install it.

【HIGH SECURITY】
It has a smart chip on board, can prevent overheating, over-voltage, under-voltage, and short circuit, thus ensuring the highest safety for your car and mobile phone. The car phone holder uses high-grade copper core coils, the inside of the stand uses a soft silicone, anti-skid shock, but also protects your car and phones from scratches. Even on the bumpy roads, there will be no power failure and it will be very stable.

【Mobile Phone Case Friendly】
Automatic Clamping Wireless Car Charger works well with most types of cases (within 5mm), e.g. Rubber / Hybrid / Plastic / TPU / PC cases, etc. Not included Magnetic or metallic covers, please remove the magnetic pad and metal ring during the charging process. (Metal attachments or credit cards interfere with charging.) YOU WILL GET, Wireless Car Chargers, Ventilation Clip, USB Cable, User Manual.

【Remove Smartphone】
Touch the On / Off button on both sides, the clips will pop up automatically and remove the phone. 
Our Customers :

Sam T. - Houston 
"Charging is good, it works, it charges. it came in two weeks."
Kenny R - Los Angeles 
" Amazing product! I got this for my wife so she can put her phone in it while driving instead of on her lap!"
Momoko G. - New York 
" I absolutely love this wireless cell charger/cell phone mount. I got the silver one. It looks classy and stylish and it feels expensive!"
Shipping Policy

FREE SHIPPING (Worldwide) FOR ORDERS ABOVE $60!

Our Estimated Shipping Time

🚀 To USA:

     Standard Shipping (7-15 days) - $5.95 (Free over $60)

🚀 To CANADA:

     Standard Shipping (10-15 days) - $5.95 (Free over $60)

🚀 To AU/ UK/ NZ:

     Standard Shipping (7-12 days) - $5.95 (Free over $60)

🚀 To DE/ES/IT/NL/SE:

     Standard Shipping (7-10 days) - $5.95 (Free over $60)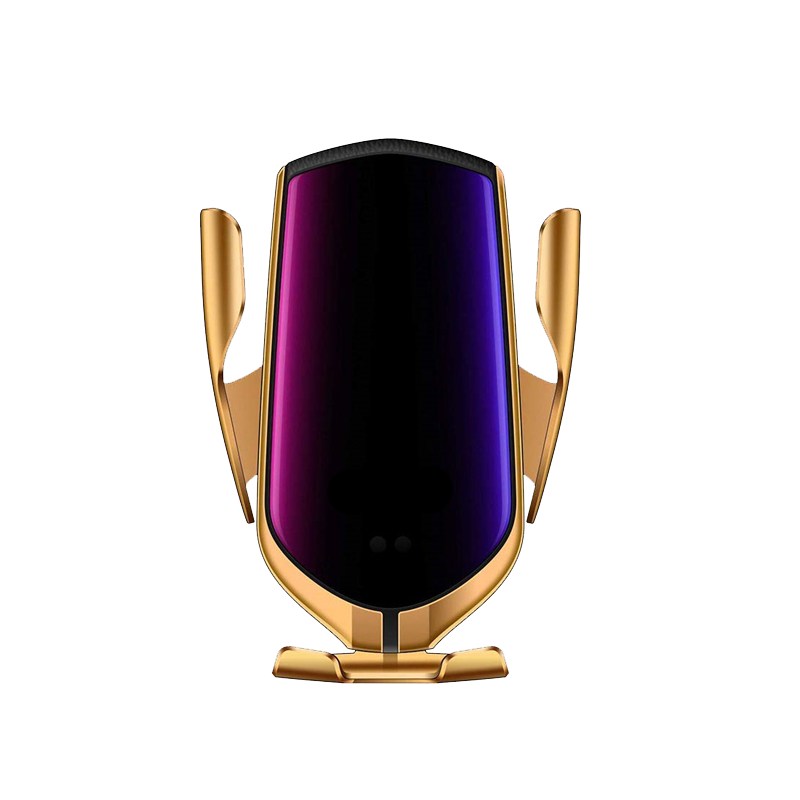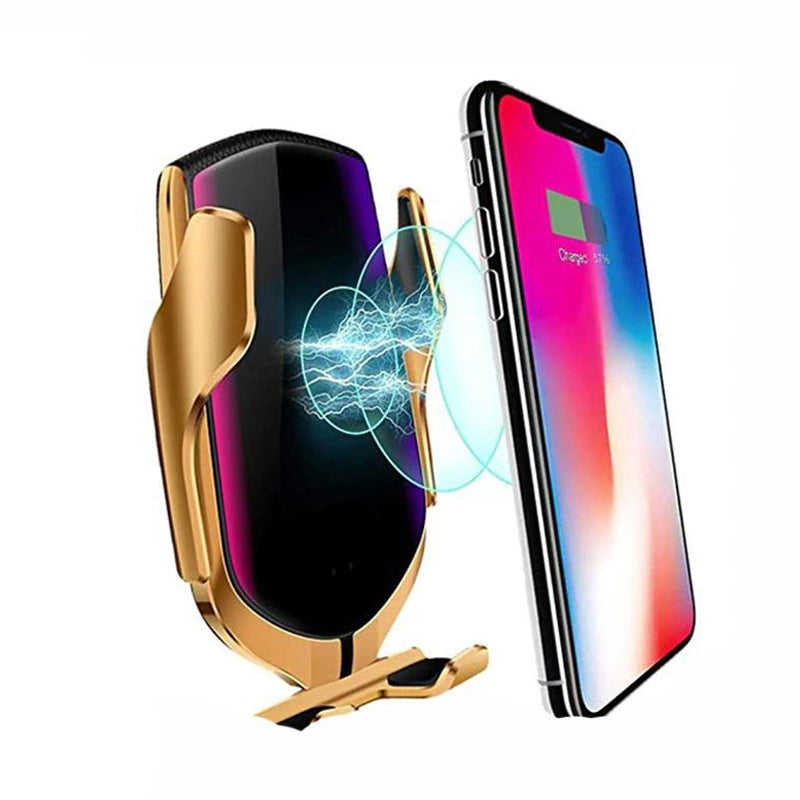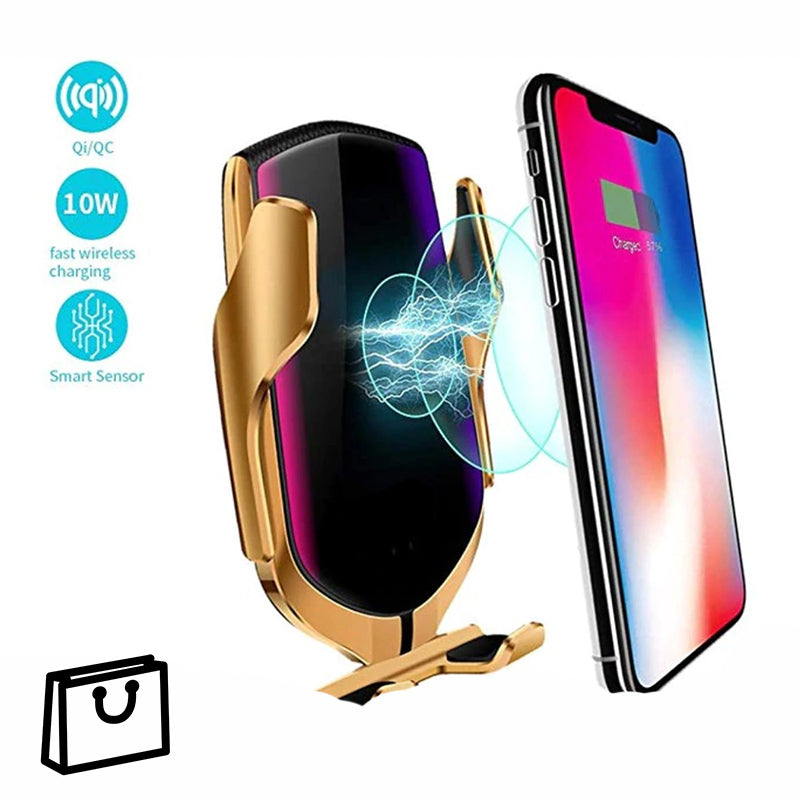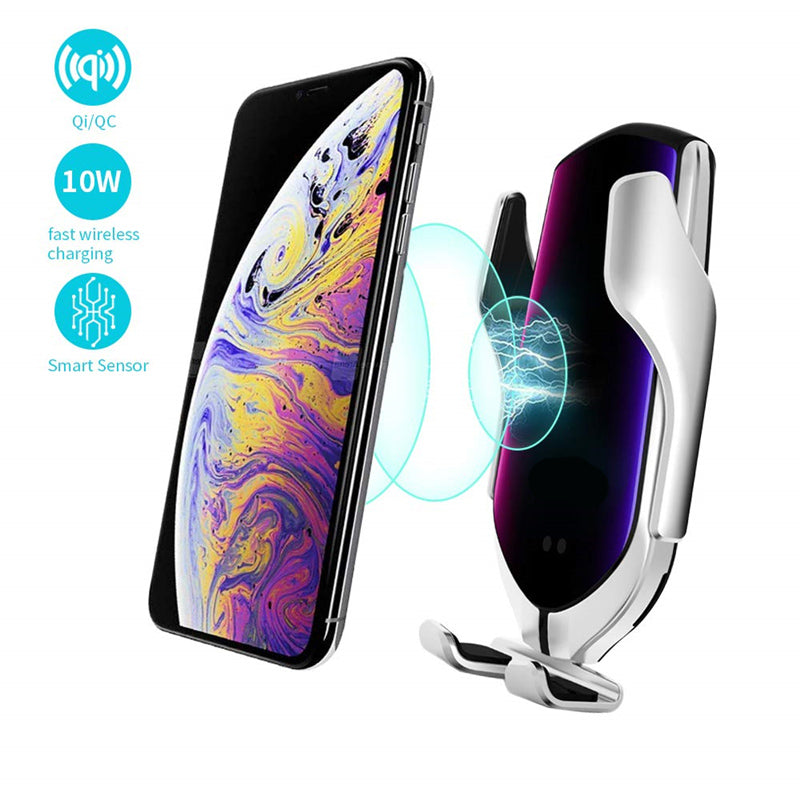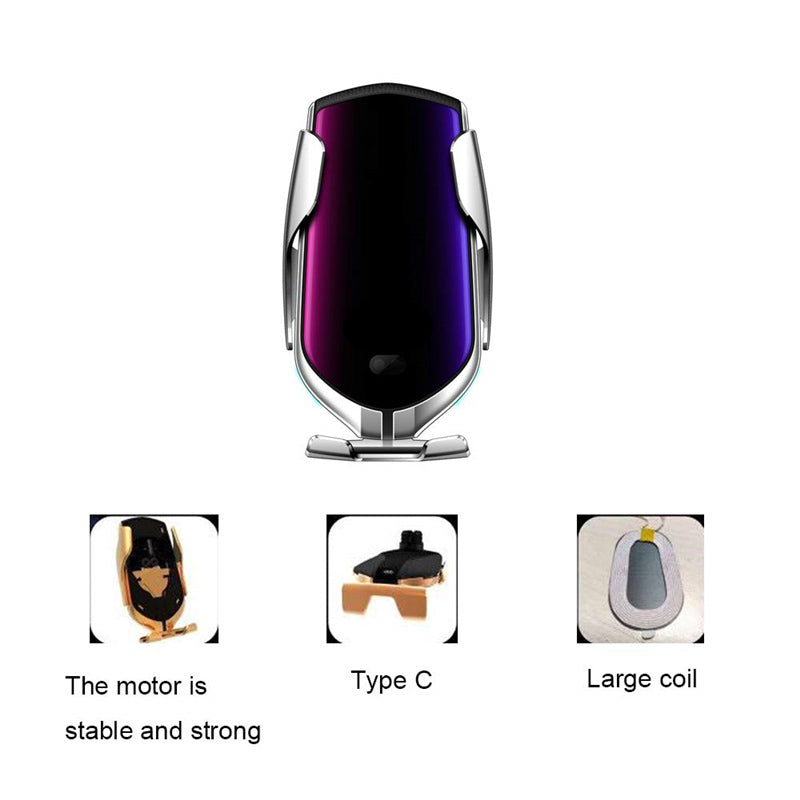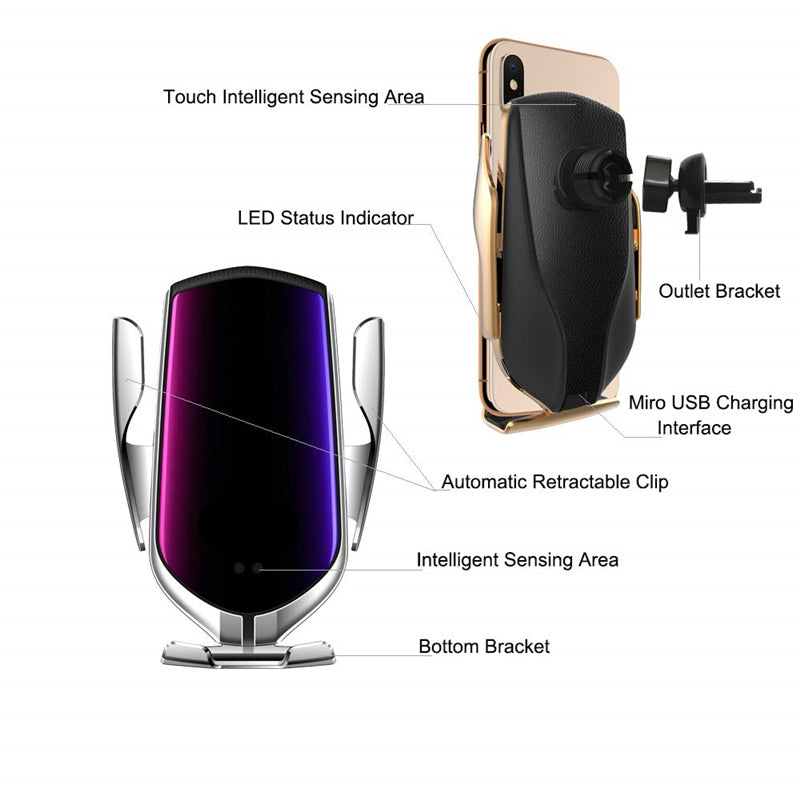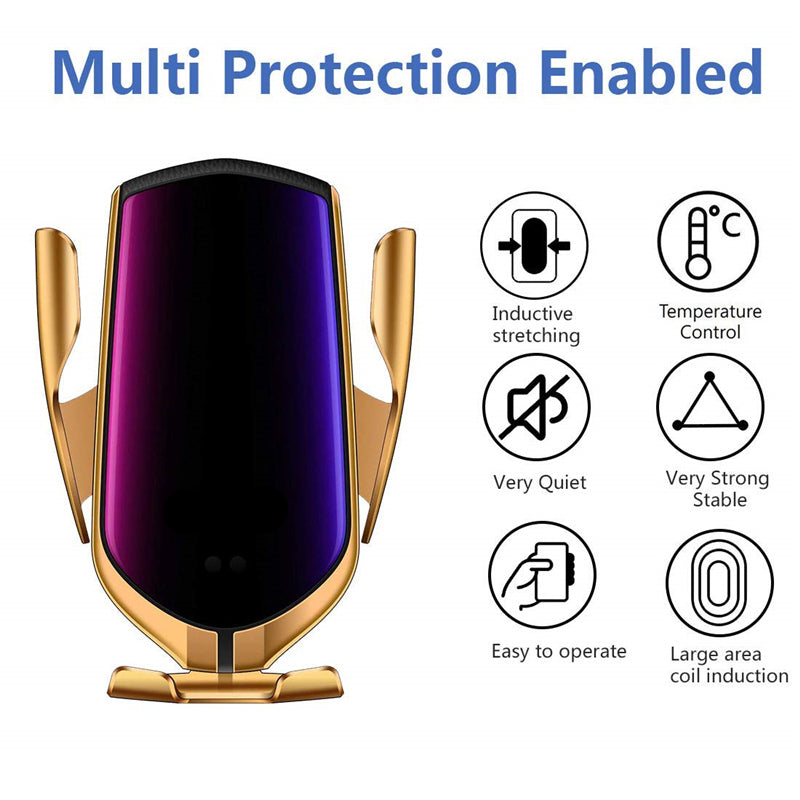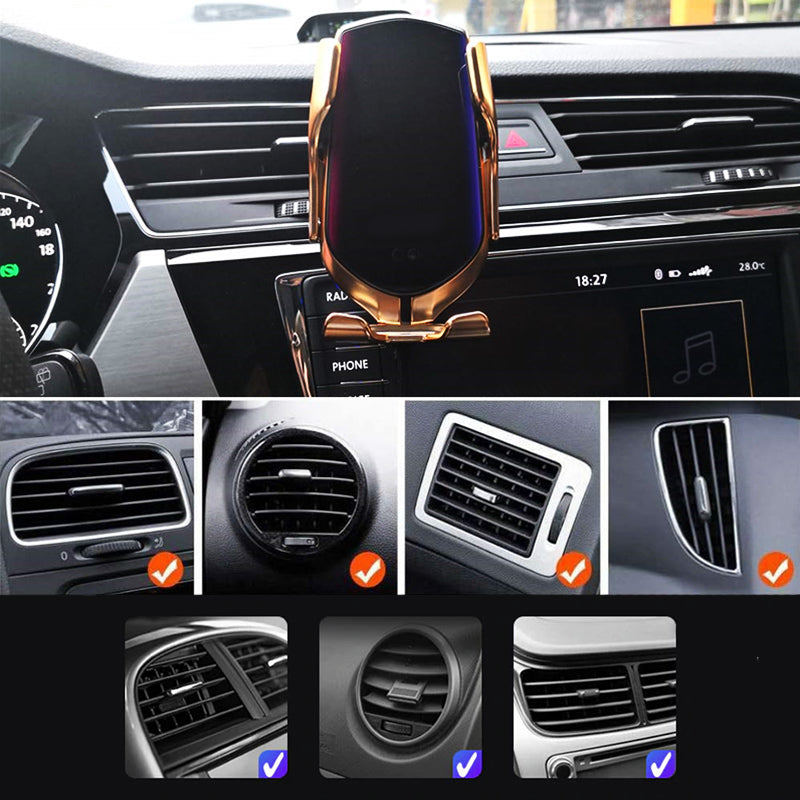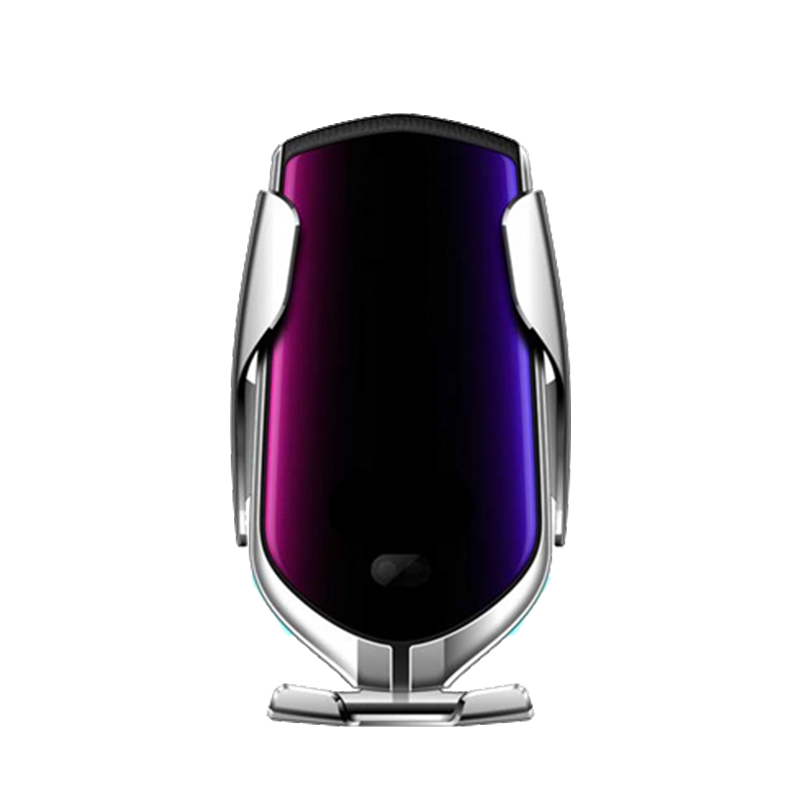 The arms aren't perfectly even but other than that, it's actually perfect.
I was afraid my phone would be too heavy and the whole thing would fall like it does with other clips, but there's a small hook on this one that attaches to the very back of the vent so no worries about falling ! :) pleasantly surprised and happy about it!
This is exactly what I wanted. It charges my phone quickly which is needed as I am navigating all day long.
I wanted to know if I needed to buy a car charger, one that has a part that goes in the smoke charging port. Can you help by explaining if that is what I need to do? it doesn't open up or light up when I hook it on the vent in the car. Does it need to be plugged in?